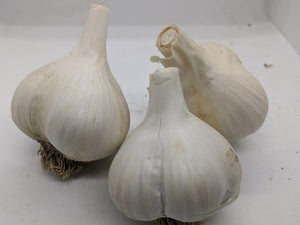 Serenity Valley
Bred by Avram Drucker of Garlicana Farm, Serenity Valley is one of the many results of his years of work in true garlic seed production (see more about true seed production here).
Avram decided to discontinue growing it, as he had even further success with 2nd and 3rd generation progeny from it, so I've adopted Serenity Valley here to this farm with his blessing, given it a name and new home. It's the hottest garlic I've grown and thus joins the lineup for the heat-lovers out there. It also cooks up to a great flavor, too, and is a robust plant in the garden.
The flavor is sharp and hot while raw, and a pleasant, smooth, buttery taste when roasted. It's truly sublime sauteed and added to veggies. Shiny purple-ish white wrappers enclose 7 to 8 cloves.
Named for the valley where the Browncoats made their doomed stand against the tyranny of the Alliance, Serenity Valley is a reminder that the losing side ain't always the wrong side. The Alliance may have won, but they can't stop the signal. Ditch your go-se 狗屎 grocery store garlic and try some Serenity Valley. It don't take a zhēnde shì tiāncái 真的是天才 to taste the difference.
Also, if you are interested in trying your hand at growing true garlic seed, Serenity Valley is a good variety to start with. Per Avram Drucker's experience at Garlicana, each successful crop grown from true seed tends to have better germination than the last, so starting with a new cross like Serenity Valley will improve your chances. At the most simple, seed production requires you to let the scape grow on the plant, and for you to manually remove the bulbils as they arrive, to make space for the true flowers. More details for this project, pending!
Serenity Valley is 2nd generation progeny of Arsia, which was a child of Krasnodar White, thus at least partially Porcelain in origin, though through expression of recessive genes or outcrossing with other families, it now attains a heat surpassing that found in the Porcelain family, in addition to colored skins and a stable 7-8 clove per bulb count. Depending on soil, it will show a lot of deep purple, or become a bit more muted, but definitely not Porcelain white. The plant is stout, reminiscent of Porcelains and Purple Stripes in blade width, thickness of stem, and total plant height. This ain't no load of fèihuà 废话, you gotta try this garlic!
-Back to the Garlic Marketplace

-Back to browse other True Seed Origin Garlics
(thanks to fireflychinese.com for supplying us Browncoats with all the info needed to navigate the 'verse in Mandarin)