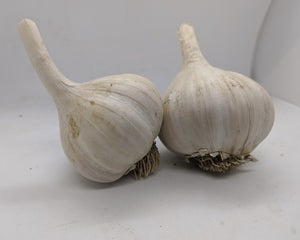 Yuggoth
Regular price $10.00 Sale
Yuggoth has 9-10 cloves per bulb, beautiful purple coloration, and a medium-sized plant in the field, reminiscent of a Turban in size. It has a mild raw flavor when you first bite in, but it develops into a crescendo of medium-high heat and flavor. Cooked, it reminds me of the best features of a Purple Stripe type, with umami flavor. I'm excited to keep growing it and see what comes of it! So far, it seems to have matured on the same schedule as my Turbans and Artichokes.
Bred by Avram Drucker of Garlicana Farm, Yuggoth is one of the many results of his years of work in true garlic seed production (see more about true seed production here). Check out Avram's site to learn more about it, and his work.
Yuggoth is a descendant of Kishlyk, a very prolific seed producer.
Garlic attains different flavors in different soils, so you can also check out Avram's original description of Yuggoth (and his other bred types) here.

-Back to the Garlic Marketplace